A huge THANK YOU for the overwhelming support for our School's Spring Forward/Pay It Forward fundraiser that launched this past weekend! MORE THAN HALF of our pledge envelopes have been claimed, and the remaining envelopes will be available for "sale" in the back of Church after all Masses this weekend (3/17 & 3/18). Hurry, as we only have a limited number of tickets still available to the THANK YOU reception at Manatawny Creek Winery on April 28, from 1-4 pm.
Continue Reading →
Share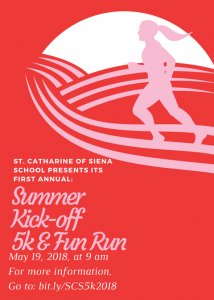 St. Catharine of Siena School Presents the 1st Annual SCS Summer Kick Off 5k Run and 1 Mile Kids' Fun Race!
Saturday, May 19, 2018 at 9 am.
Professional Timed by Pretzel City Sports.
For more information, go to: St.-Catharine-of-Siena-summer-kick-off
Applications available at: bit.ly/SCS5k2018
Continue Reading →
Share
Computer/Technology Teacher for K-8. Must be proficient with Google G-Suite and Google Apps for Education. Must organize, maintain and manage class systems in proper working condition. Teach students and learners to use computers. Design and develop appropriate computer instructional material using the ISTE standards. Manage and monitor student behavior. Initiate and implement systems, procedures and other student management issues.Develop and implement lesson plans and classroom activities in consistent with the student management issues. Determine and ...
Continue Reading →
Share
The Book Fair will be set up in the cafeteria from 3/12-3/16, and online shopping will be available from 3/4 through 3/24!
Set up an ewallet for easy shopping and get more information about the Book Fair here:
Continue Reading →
Share
Tickets available for the 3rd Annual Designer Purse Bingo!
Proceeds benefit the Programs, Students and Staff of St. Catharine of Siena School
Saturday, April 14, 2018
$25 advance purchase/$30 at the door (SOLD OUT last two years!!)
Doors open at 5:30 Bingo starts at 6:30
Let's try to beat last year's profit of $23,000!
For tickets, please visit SCS School between 8:30-2:45, contact the purse bingo committee at scsbingosquad@gmail.com or tickets will be sold after all masses the weekends of ...
Continue Reading →
Share